Here you will find the latest NCERT books for class 1 – 12 all subjects. These books are available in PDF format, and you can either download them on your device (Smartphone, Tablet, or Computer) or read them online. NCERT textbooks are being used in CBSE (Central Board of Secondary Education) and many other state boards such as the Haryana Board (HBSE), MP Board, Gujrat Board (GSEB), etc.
The school board and textbooks are also helpful in clearing competitive exams such as Civil services, PSUs, and other departmental exams. If you want to clear your basic concepts, NCERT study materials for all classes are a must. We have arranged all the books for all Hindi and English medium classes to download on your computer. You can either download the book chapter-wise or a single file for the complete book.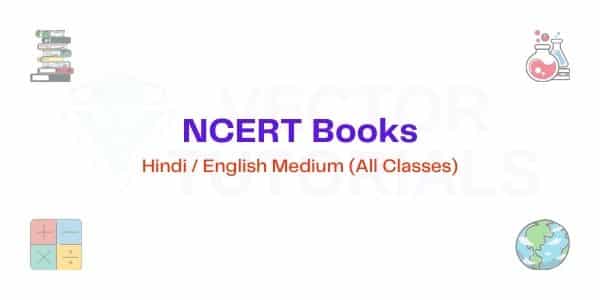 Download NCERT Textbooks For All Classes
Books For Class 1
Books For Class 3
Hindi Medium NCERT Books For All Classes
We have Hindi medium books for all classes of 1,2,3,4,5,6,7,8,9,10,11,12. We regularly update all the books from time to time with the latest pattern from NCERT, and many states board follow NCERT textbooks. Please download these books by clicking on a specific class and subject. एन सी ईआर टी की हिंदी किताबें डाउनलोड करें. हिंदी माध्यम की पूरी पुस्तक डाउनलोड करे। गणित, विज्ञान, हिंदी, सामाजिक विज्ञान, संस्कृत, लेखाशास्त्र, अर्थशास्त्र की पुस्तके डाउनलोड करे!
अगर आप NCERT की किताबें हिंदी में चाहते हैं तो नीचे दिए गए लिंक पर क्लिक करके हिंदी माध्यम की NCERT की किताबें अलग से डाउनलोड करें। सभी पुस्तकें पीडीएफ प्रारूप में उपलब्ध हैं। आप किसी भी वेब ब्राउज़र या किसी भी पीडीएफ रीडर का उपयोग करके इनका उपयोग कर सकते हैं।
NCERT Textbooks For Class 1 – English / Hindi Medium
Download all the books for class 1 supporting English and Hindi medium school patterns. Books for class 1 are Hindi, English, and Mathematics.
Read More