To study at home efficiently, you need to take care of a few things, including noise and disturbance. If you want to do well in your study by staying at home, you got to do it anyhow. This post is all about some tips that would help you study efficiently at home. By following these tips, you could study for as long as 12-18 hours a day.
We all are aware of how the COVID-19 situation has changed everyone's life. It has drastically affected working, studying, and living. In such a situation, when Governments are confused about whether to take the exam or postpone it for much longer, students are confused too, and they are worried about how to study at home efficiently.
Why Study at home?
For example, let a student was preparing for an exam to happen in April-June. He was already in the final stage of his preparation, and there was a countrywide lock-down started. Corona cases increased, and exams got postponed a few times. Now he, among other students, is confused about preparing for the exams as they do not have any idea about exam dates. More importantly, they would have to prepare at home on their own.
Although getting enrolled in some good online coaching institutes is a good idea, yet there is a massive difference between an online class and a physical class. But we need to do it the way it is going right now. Safety comes first, and the effects are not relieving so soon.
Way of studying at home efficiently
When COVID19 is over, there might be a decrease in students ready to join the physical coaching center. There are noticeable changes in someone's habits, and many have made up themselves comfortable for online classes only.
This post is all about preparing students to study at home efficiently. By the end of this post, you would learn how to manage your time at home and how to study well by ignoring all the disturbances.
10 Working Tips to Study at home without getting bored
Below are the top 10 tips that would help you to study at home without going crazy. If you are facing any difficulties in learning, feel free to consult us for free guidance. We would be more than happy to help.
1. Work on your schedule
You need to work on your schedule to study at home properly. If the time and topics are not arranged properly, you will end up not studying at all. To do so, follow the below guide:
| | |
| --- | --- |
| 1. Firstly, make a list of all the work other than study. Now keep it aside and make a topic list that you are going to study. | 4. Now, choose the best time to complete all non-study work. This should be the time when you can not concentrate on study. You can divide the work to be completed in break time. |
| 2. Sort the topics that you need to cover according to their difficulty level. We do not have the same energy level all day—that is why we need to understand which topics take most of our energy. To study at home properly, you need to learn about your complex topics. | 5. Select the most difficult topics to be done in the forenoon. This is the time when you have been full of energy and most productive. The day goes up, and your energy level decreases. Your topics should follow the same routine. |
| 3. Prepare slots of 50-90 minutes separated by 5-15 minutes break. The break would help you prepare your mind for the next topic. Assume it is like taking a class in school. | 6. You do not need to cover all subjects in a day; you can divide your week according to subjects. |
2. Exercise daily – Healthy mind works faster
It is the most important rule to follow when you are studying at home. If you visit a coaching center, you are doing some walks, meeting your friends, etc. Such activities are automatically helpful for our body and mind. Even a bit, but you do some exercise and get your body parts moving.
When you are staying at home most of the time, there should never be a lack of exercise. If you are not exercising, your brain will exhaust soon, and you would not focus on study.
Always remember: Physical activities have an immediate effect and long-term effect on academic performance. It optimizes your mind and improves attention, motivation, and sharpness.
By daily exercising, you would not only study at home efficiently, but you would last longer. It is simple, how can you think of studying for 12 hours when your body is exhausted in just 3 hours?
3. Never Skip Food
I have come across many people who skip their food to give more time to their work/study. By doing so, you might get some time to boost your performance, but you would not have the required energy for later.
You can never study at home or do any work properly anywhere if you are skipping your food regularly. It has a long time effect on our health (physical and spiritual).
You should maintain the energy level in your body; otherwise, you would study not more than 1-2 hours maximum. But you need to be careful about what you eat and how much you eat.
Keep these points in mind every time you are about to consume food:
It must be healthy
Stop eating when you think you would be full soon
Eat something every 2-3 hours
I hope you would study at home more efficiently when you follow proper diet habits. Study at home, but you can also improve every work in every field with appropriate eating.
As our ancient gurus have already said,
"'पहला सुख निरोगी काया, दूसरा सुख जेब में हो माया।"
It means a healthy body must be the priority only when you would earn money. It should not be otherwise like most people do; they give priority to money and work.
4. Take a nap when possible
This is one of the good ideas to give your body and mind a little rest. During the breaks, you could try to get a nap. Taking a nap for 15-25 minutes would instantly refresh your mind, and you get a boost to continue studying. After the rest, get up and wash your face with water and get back to studying.
Some people feel lazy when they go for a nap. It will affect your studying schedule if you are feeling lazy too. To study efficiently at home, you need to overcome laziness by following strict rules and proper exercise. It might be hard in the first few days, but it would become easier every week.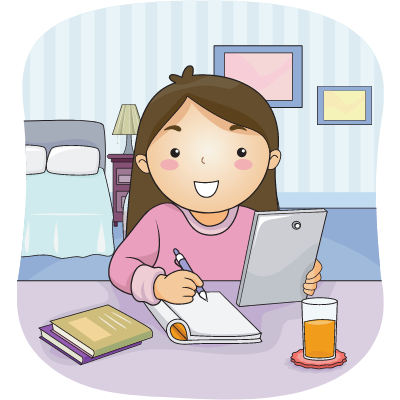 5. Do not stress out ever
Stress is not suitable for your health, both physically and psychologically. If you want to improve your studying, whether it be at home or work, take the stress out of your life. Students tend to be under stress by overanalyzing the syllabus; over thinking about their performance in the near or far future.
Instead of overthinking, write down the problems you are facing while studying. Then start eliminating them one by one. Read the below line carefully and try to understand the meaning.
"There are several interactive business ideas in everyone's mind, but those who work on them get the success."
It means if you think about problems and work, you will eventually end up having stress. But, if you make a planned strategy and work accordingly, you would work on those problems and solve them.
Also, try to do some meditation when you want to study efficiently at home. This will calm down your brain.
6. Study in Daylight whenever possible
Some are morning people; some are night people. Some prefer to study late at night while others prefer early mornings. If you want to study well at home, always try to study in daylight whenever possible. Studying in the day gives alertness to the eyes, and we do not feel sleepy.
At day time, you get whole natural light that is refreshing for our eyes and the brain. You may yawn a few times when you are studying at night. This happens because of the absence of natural light and too much silence.
7. Say goodbye to Comfort
When I was in 10th class, my elder brother used to study in his room without any fan or comfy chair. He used to do this mostly at night so that he does not fell asleep. This is how he sacrifices his comfort so that he could focus on study.
If you want to study at home efficiently, you gotta say goodbye to your comfort. Home is the place you get the most comfort. If you feel comfortable while sitting, you would become lazy and soon you would be sleeping. Below are the following ways by which you can eliminate comfort zone in your room while studying:
Always study on the chair & table or the floor. Never go for a sofa or bed
Choose a chair that does not have a soft cushion or no cushion at all.
Try to be in a room with normal room temperature or a bit high temperature. Try to avoid Air Conditioners.
8. Low intensity / Easier topics for night
Till now you have may have understood how you can prepare a schedule to study at home efficiently. Now, this point is about dividing your topics according to the time. As mentioned in the first step, we do not have the same energy level for the whole day; and we need to study accordingly.
Decrease the difficulty level with an increase in time. That means go for hard topics in the morning or the time when you have an energy boost. Mild intensity topics in the noon and afternoon.
Leave all the easier topics that do not need much focus. Or go for some revision work at the night or the time you go to sleep. This will help you to memorize easily and you would be using all hours properly for studying at home.
9. Do your own experiments
So far we have talked about 8 tips to boost your study at home. In this 9th tip, I am not going to tell you much. I just have to say that never-ever fall apart, just give your best.
It may be possible that all the above tips do not work for you. Or it may be possible that all of the above tips work best for you. Or the worst case, it may be possible that none of them works. In such a case, instead of worrying about it, just try your experiments.
Every student has their way of studying and understanding things. As we have talked about earlier, it does not matter whether you are a night person or a morning person. All that matters is how you have distributed your time for the topics you need to master.
Do your own experiments and you would see many ways to study at home without taking anyone's help. When we learn or do something by ourselves, we never forget that in our life.
10. Break up with your smartphone and social media
This is the most important point to eliminate disturbance around you. To study at home efficiently, you need to break up with your smartphone and social media. If you are studying online from a smartphone then try to do it on the laptop or a computer.
And if you have no choice but you can study on either a smartphone or by book then go for books. Use smartphones only when it is too important (taking video lectures, live classes, etc).
If using a smartphone has become necessary then say goodbye to social media such as Facebook, Instagram, Snapchat, etc. These social media apps are just a disturbance and nothing else. Instead of these, go for some learning apps.
You can use social media in your life, they are not going to leave you as long as there is internet connectivity.
Bonus. Noise cancellation headsets
Above you had your 10 tips to study at home perfectly. Now is the time for a bonus tip.
If you can not concentrate on your study because of noise or too much silence in the room. Yes, too much silence can also be the reason that you can not concentrate. That is why some people listen to some soft music during study and work.
You could invest in some good noise cancellation headsets to overcome this situation. There are many headsets with proper noise cancellation available to order online. This would not only help you in avoiding disturbance but also you can use it in your free time to refresh yourself with some good music. And by good music, I mean inspirational, motivational music (not the one that movies have in Bollywood.)
I hope you liked the above article. Try to apply the above tips in your life and see if it has improved your study at home. If it does, then do not forget to comment down and share it with others to help them.
Take Care! Study Well!